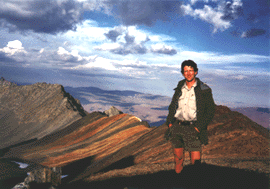 Rick Sanger's reflective nature and diverse experience has given him a unique gift in guiding others. After graduating from Pomona College (B.A. in Liberal Arts) he worked as a cook in the Antarctic, a computer programmer in Idyllwild, California, a survey technician on a ship off Alaska, and as a stereo repairman in Yakima, Washington. In 1989 he earned a B.S. in computer engineering from the University of California, Santa Cruz.
In 1991, he quit his job as a computer repair technician to seek a deeper fulfillment in life. After an 800 mile bike journey, Rick was hired by the California State Park system in the Mt. San Jacinto State Wilderness Area. Stationed in a remote camp, he found his niche providing interpretive and rescue services as well as exploring the depth of meaning and emotion that the wilderness awoke within him. This experience inspired "Are There BEARS Here?"
After three years on Mt. San Jacinto, Rick was hired by the National Park Service as a seasonal backcountry ranger in Kings Canyon National Park. He now patrols alpine regions three-days-hike from the nearest road, thriving on the emotions evoked by crystalline skies and pristine wilderness. During the "off season" he has taught skiing, managed a technical editing company, and published his first books and stories.